Discussion Starter
•
#1
•
This is a how to on making your own set of amazing custom gauges.
Enjoy and keep the creation flowing.
Step 1) Scan your gauges.
Get a good scan of your gauges. If you do not have a scanner go to office max or kinkos, they do.
Also Once I get my retarded scanner working again I will make a template for the srt8.
Step 2) Design your gauges.
This step will most likely take the longest, unless your just over flowing with creativity and do everything perfect the first time around (Not me..... Definitely not me
).
You will be taking your scan of your gauges and importing it in to the Picture creating/editing software of your choice. Adobe illustrator I'm told is better as it is a vector program and its easy to adjust the size of the gauges without blurring.
I used Photoshop and as long as you DO NOT ADJUST the size of the scanned image you should be ok.
But anywho... Let the creativity flow and design your new wonderful gauges.
Make sure to make a copy of your gauges with just the black on it (if any). you will be using it.
example: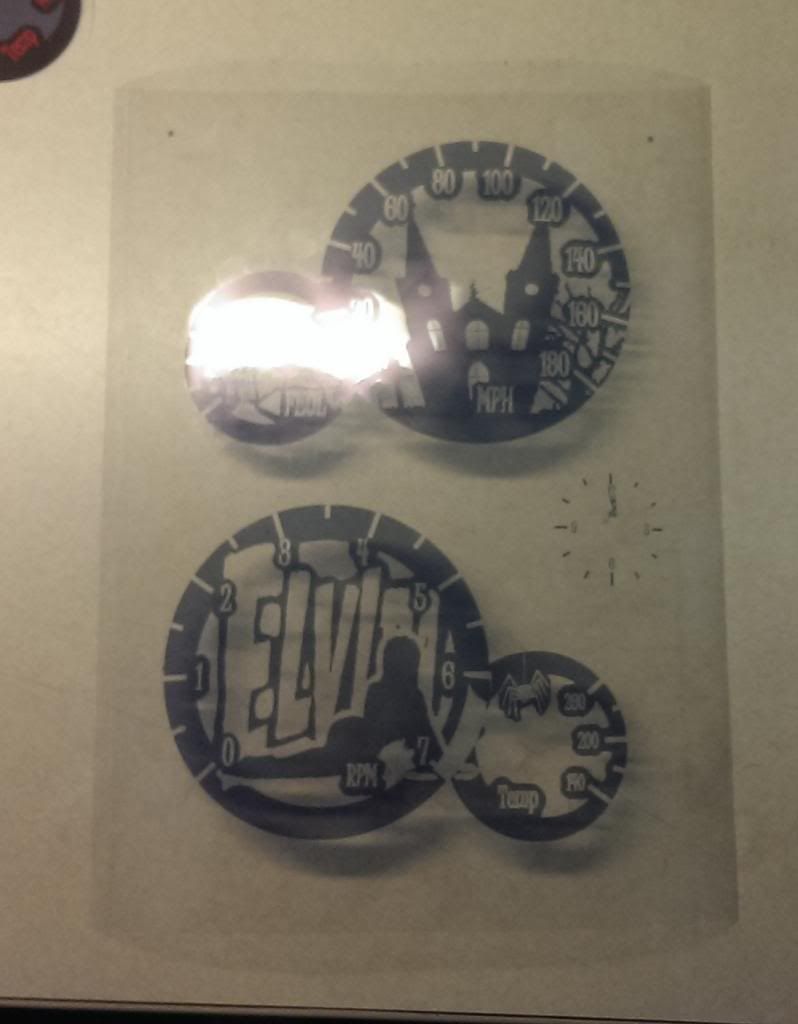 *Special note. Unless you know a way to change the EL Sheet (if applicable) the color you will end up with will be (your wanted color + ugly stock greenish/blue color = your actual color). Just keep this in mind when designing your new faceplate.
**Secondary special note if anyone has found a way to change that stupid sheet please let me know.
Step 3) Making your dream a reality.
This is were its going to get fun and maybe irritating all in one.
You will need the following to continue.
1) A decent printer. Laser works the best. Don't have a printer? You guessed it Office Max or Kinkos do.
2) Substrate: I used 30lb vellum and clear laserjet film. You may also use Polycarbonate 10mil (Which I think will work best) and clear LaserJet film.
3) Spray Glue: 3m I find works the best.
4) Gloves: Use rubber gloves when working with your gauges otherwise you will end up with finger prints all over your gauges that a pain to clean. If your spending the time doing the work do it right.
5) Cutting Device: A good pair of scissors, exacto knife, katana, etc. (A good exacto Knife is preferred as you will be cutting out small holes for the needles.)
- First part of this step is to print out your creation. I would suggest making 10 copies of your gauges the color and black version in case of any hick-ups. Out of 10 copies you should make at least one perfect set.
- This is optional. If you want a color to stand out or if you not getting the color you want. You can use some of your clear film and make a tint color of your choice. This will not not need a design as it will be behind the other pieces and is there to help adjust the color.
Example:
For the remainder of this how to this is how I will reference the different your different layers(I'm am writing this part in as sometime I even confuse myself.).
Tint - bottom sheet to adjust color
Main Image - Self explanatory
Black copy - Also self-explanatory
Have everything printed? Good. Now you can do this one of two ways. Having a light table or something to the effect helps here.
Way 1: Try to line up your main image with your black copy. If they line up perfectly great! You can do the gluing now and cut later. (Less Cutting, But make sure glue is fully dried first)
Way 2: If your like me then they didn't exactly line up just right. You will have to separate the 2 gauges and line them up.
- Once you have made sure everything lines up now will come the gluing.
Lightly spray the main image with glue. (This is were mistakes might happen and you be happy you have all those extra back-ups.)
Once again line up the black copy with the main image. THE BLACK COPY GOES ON TOP
My gf tried to help me with the first set and has now lost gluing privileges.:shakehead:
- Now that you have successfully glued the black copy to the front of the main image its time to add tint. Now if you like the stock color and you are just making a design or different style numbers ignore this part.
However if you are doing this in the first place your most likely going to a different color and will need tint to help you reach your goal. I found that 2 layers of tint with the color of your choice works good.
Glue the tint to the back of your gauges. Start with 1 layer and add on till you get the desired effect.
* Special Note: While the glue is drying it is best to put them in between 2 flat surfaces to insure they dry flat. Otherwise you could end up with waves in you cluster.(If that makes sense)
Step 4: Install
- There are a lot of threads on here on how to remove your cluster. So I will just. give a quicky on it. Open door, pull down panel below steering wheel, pull off panel above steering wheel (watch for flying ignition key thingy), Remove 4 screws holding steering wheel sleeve, Remove 2 screws holding gauge cluster, Remove 3 plugs in back of gauge cluster, and presto!
- Remove the 6 indicated screws in the back of the gauges and remove the cluster cover.
- Mark where your needles are sitting/pointing. This will be the resting position.
- Next pop off the needles using a needle removal tool. If you don't happen to have said tool use a fork. Place fork under needle and gently lift.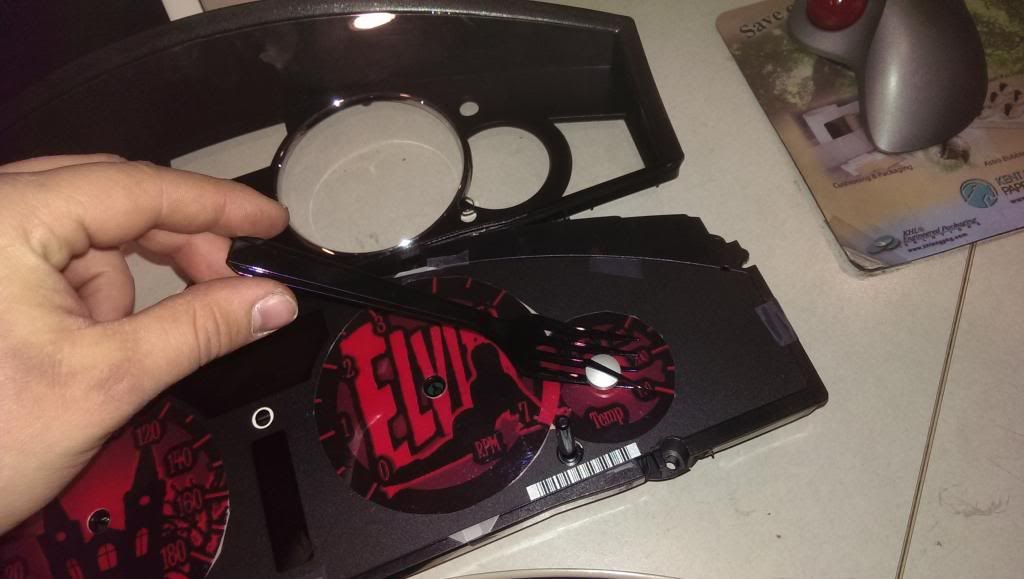 - Remove stock gauge face. I cut the gauges off of the face so my indication lights would not be affected.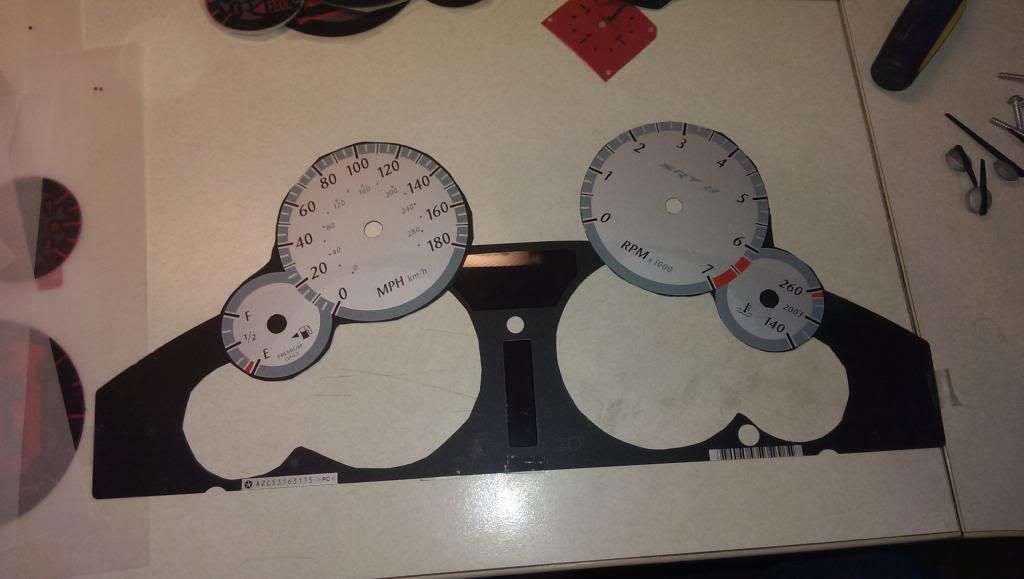 - Using the stock gauges as a guide draw a circle for your needles to fit.
- Once holes are cut to the proper size Install your new bundle of joys.
you will want to make sure they don't move around. I used tape on non visible areas to make sure they stay put. Then places the stock gauge face minus the gauges. You can see in this picture what I'm trying to explain.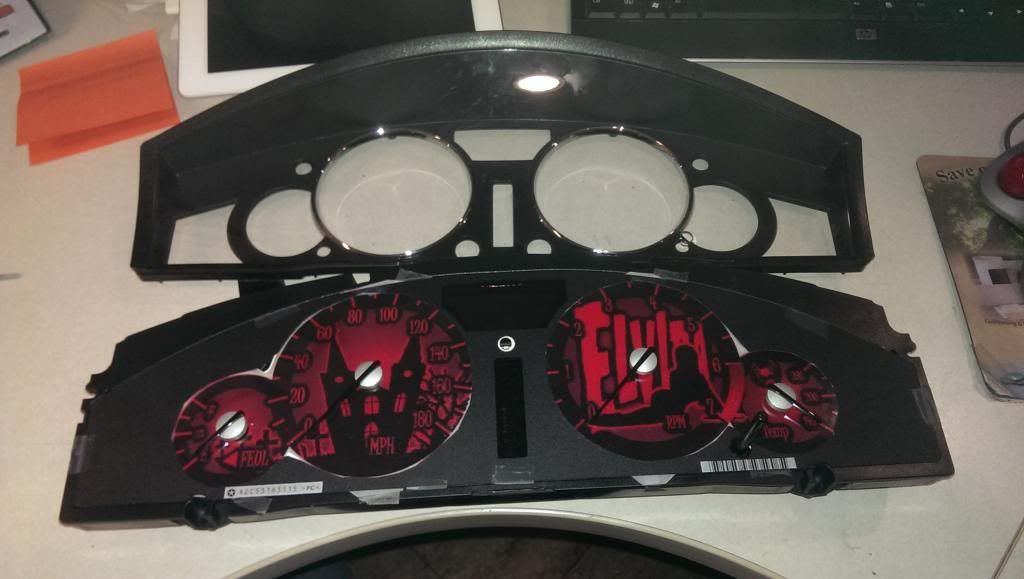 - Once you have everything in place its time to reinstall your needles.
BE CAREFUL!
First lightly put on one of the needles so it will be easy to take back off. Once on gently push the needle in a counter clockwise motion till you feel a resistance. This will be your rest position. You will want this to line up with the mark you made earlier. If it does not remove needle point it close to marked area and repeat counter clockwise motion until you get the rest position to match the mark. Once you have a bingo push the needle about halfway down. If you go all the way down the needle may stick and not move.
Repeat for the remaining needles.
- Assemble everything back together and give your self a pat on the back. Your done. =)
Special note: You may have to install and uninstall the cluster either to adjust the color (Tint or Main Image) or to retry the needle position thingy. Make sure you drive around and your needles sync up with your speed, revs, temp, and fuel.
Well that's it!! Enjoy and I look forward to seeing what you all come up with.
My final product... for now
Much brighter in person.