After realizing a lot of questions come up over the same things regarding How to install Head units, speakers, subwoofers I am going to simplify and try to answer a lot of questions in this post.
To start if you are
installing a oem radio
to replace your current oem such as raq, rec etc these are plug and play no further wiring is needed for 05-07 300's, chargers, cherokees, maggies, commanders etc. Only thing that might be required is a different radio bezel. As chrysler makes one for the navigation and non navigation. my video tutorial:
http://www.300cforumz.com/showthread.php?t=58116
In regards to
my gig
that is considered a retrofit There are a few parts that cost anywhere from $200-400 to make this fit including a lockpick, nav antenna, bezel, sirius antenna etc. This link should help you figure mygig out:
http://www.300cforumz.com/showthread.php?t=58266&highlight=mygig
all necessary harnesses and installation kit for a aftermarket Head Unit (HU)
1. the mounting kit:
http://www.crutchfield.com/p_120996510/Chrysler-Dodge-Jeep-Kit.html
or scosche CR1289B (for aftermarket Navi) or scosche CR1286B (non navigation aftermarket HU)
2a. Peripheral's CHYAH05 or Pac Audio C2R-CHY or scosche CR03SR (lets you retain factory amp with your new head unit)
2b. Wiring kit (allows you to bypass the factory amp to use the head units power)
http://www.crutchfield.com/p_120706504/Dodge-Jeep-Chrysler-In-dash-Stereo-Integration-Adapter.html
or Pac audio
C2R-CHYNA
2c. pac audio
C2R-CHY4 (requires factory amplifier) but you wont need the swi-can for steering wheel controls but you may still need pac SWI-X
3. here is the antenna adapter from oem antenna end to the new hu:
http://www.crutchfield.com/p_12040CR10/Antenna-Adapter.html?tp=2569
or scosche CRAB
4. to retain steering wheel control on your aftermarket head unit you will need PAC SWI-X in conjunction with SWI-Can 2 (only needed if using c2r-chy)
5. If you decide to go with an aftermarket navigation unit and do not have an oem navigation unit you will need a factory chrysler 300 navigation radio bezel. If you go from a navigation unit to a regular Headunit without navigation you will need to get the factory chrysler regular radio bezel. Yes your dealer sells these they come in black, silver, carbon fiber (looks ugly) and a laminate stlye (carbon fiber even uglier). But check the forums people are selling these things all the time. If you cant find them on the forums check ebay, seller LKQonline tends to have a lot and often times gives you an additional clock and sometimes the temperature controls too!
In regards to
installing an aftermarket amp
its pretty explanatory from these diagrams, this is the easiest way to do it with an aftermarket Head unit. Run your RCA from the pre outs on the back of the Head Unit to the designated amp. From Subwoofer pre outs to subwoofer amp etc.
NOTE:
not all amps have inputs for multiple power and ground wires. Majority tend to only have 1. Also in the illustration you will notice next to from the HU to the amp there are some wires, the pair on the left is your rca patch cables to the right of that is your remote ignition turn on wire to unsure the amp turns on when the car and radio turn on.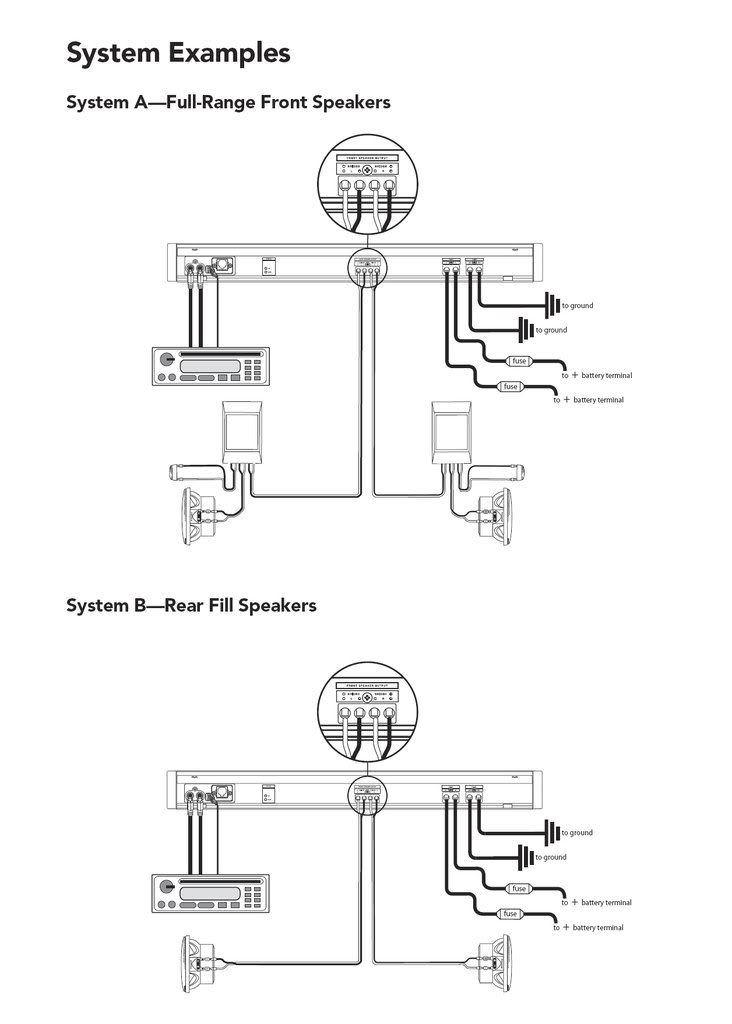 This is an image of a quick understanding of subwoofer install. PLEASE read on you should grasp a better understand of combing a subwoofer amp and box.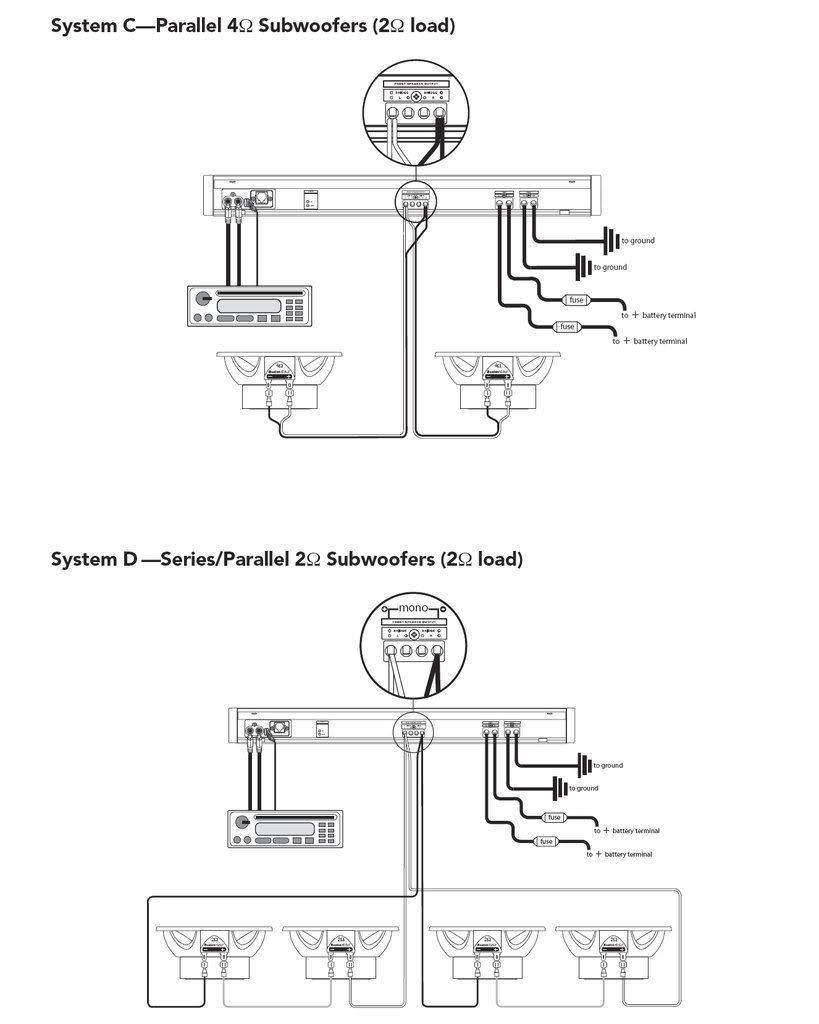 Adding a subwoofer
to your current setup isnt brain science but planning is def required not all amps subs and boxes pair together. Follow these steps and it will simplify your life.
1. Personally I like to choose my subwoofer first based on reviews, visiting audio shops listening to what I like best and most important selecting a subwoofer that will fit in a box that will fit my needs. Some subwoofers require massive boxes that take up your trunk, others require smaller boxes that can fit in the corner or a small place in a trunk or possibly behind a seat in a single cab pickup. Once I select my woofer then
2. Your prospected subwoofer has some type of ohm configuration most common a single voice coil (SVC) 2 ohm or 4 ohm or dual voice coil 2 ohm or 4 ohm load (DVC). Knowing this is very important when deciding on an amp and woofer. NOT ALL AMPS are compatible with all ohm loads. So you want to choose a subwoofer in conjunction with a suitable amp. A lot of times you can buy the same sub in a 2ohm or 4ohm configuration. Wiring the sub is more than just plugging it in from sub to amp and requires the decision of the ohm load your planning to run which is called series or parallel. When choosing an amp you want the rms and max wattage to be about the same as your subwoofers rms and max wattage. Amps are usually rated somewhere like this but this is an example
RMS ratings:
200 x 1 @ 4ohms
400 x 1 @ 2ohms
600 x 1 @ 1ohm
ideally i would want to maximize my amp so i would want to run it at 1 ohm. so i would look at the the link below to see what woofer configuration i need to get to those specs.
Here is two link to (SVC) wiring configurations and (DVC) configurations.
http://mobile.jlaudio.com/support_pages.php?page_id=145
( i will try to replace the link with actual illustrations later)
after looking at the link you notice that in order to get 1 ohm on the amp you need two (svc) 2 ohm subwoofers wired in parrallel.
If you went with a (DVC) woofer you notice if you bought (1) 2 ohm woofer you could run it in parrallel to achieve the 600x1 @ 1ohm from the amp. This is a simple representation obviously you can add multiple woofers and obtain different ohm loads. BUT REMEMBER NOT ALL AMPS CAN HANDLE ALL OHM LOADS A LOT OF CLASS D (subwoofer amps) are not 1 ohm stable, so be sure to look at all specs of subwoofer and amps, when deciding on the package you want to buy.
Installing an aftermarket amp and subwoofer with a OEM radio/head unit
There are two common ways of doing this the most simplistic way is buying a Line Output Converter (LOC) this basically creates a rca signal for your amps which is required. The LOC basically you take 2 wires and tap the + and - on both speaker wires going to the rear 6x9's. (There are many great brands out there but I personally use the Scosche SLC-4 since it was reccomended to me and works great). You can buy wire splice that crimp on at radio shack for $2-4 bucks. Then you plug you rca from loc to amp input.
picture of my loc:
spliced in to both rear 6x9's a + and - on each 6x9 was spliced with the blue splicer:
Dash Left +: Gray/Orange
Dash Left -: Gray/Yellow
Dash Center +: Gray/Brown
Dash Center -: Gray/Orange
Dash Right +: Gray/Dark Green
Dash Right -: Gray/Light Green
Front Left +: Gray/Violet
Front Left -: Gray/Yellow
Front Right +: Dark Green/Violet
Front Right -: Dark Green/Yellow
Rear Left +: Dark Green/Tan
Rear Left -: Dark Green/Gray
Rear Right +: Dark Green/Brown
Rear Right -: Yellow/Gray
Subwoofer +: Grey/Brown
Subwoofer -: Dark Green/Brown
Note: The the first color is the color of the wire and the second color is the color of the stripe on the wire.
__________________
The other way which
requires a factory installed amp
! is installing the pac audio harness (C2A-CHY) behind the oem deck which provides a set of rca pre outs. Basically you plug in some rcas to the pac audio harness and run them down the side of the car under the carpet (pop the mouldings off around door sills) and run the rca to the trunk and plug into the amp.
Once you determined the best way to get your RCA signal this is required in both methods:
Installing the Amp (OEM Head Unit or Aftermarket HU)
Your amp requires three wires for it to turn on and function properly. Power wire, ground wire and remote ignition wire. Whats amazing about the lx's is that the battery is in the trunk (an audio dream). Choosing the wire gauge depends on the amount of amps and the amps draw. In my car I have one amp so i run a measily 8 awg. In my truck I have two very big amps and run 0 awg wire looks like garden hose. Anyway if you choose an amp kit they usualy tell you how much wattage the wiring kit is designed for sometimes not.
But installing the wire is a breeze take the floor out in the trunk like your accessing the spare tire and you will see the battery. Put a ring terminal on both power and ground wires take the nut off both power and ground at the battery and put the designated wires on the designated screws. I put my negative on a bolt near the postivie terminal on the chassis because the less ground you have to use the better and doing this saved me about a foot of wiring. On the power your going to want to fuse it to protect your electrical system and amp in case something happens so put an inline fuse 12-18" off the power wire. The fuse however should be the last thing installed after all wire is hooked up and sub is all wire up, to ensure safety to car and equipment.
ring terminal on power (i prefer blue or red wire for power to help me keep track):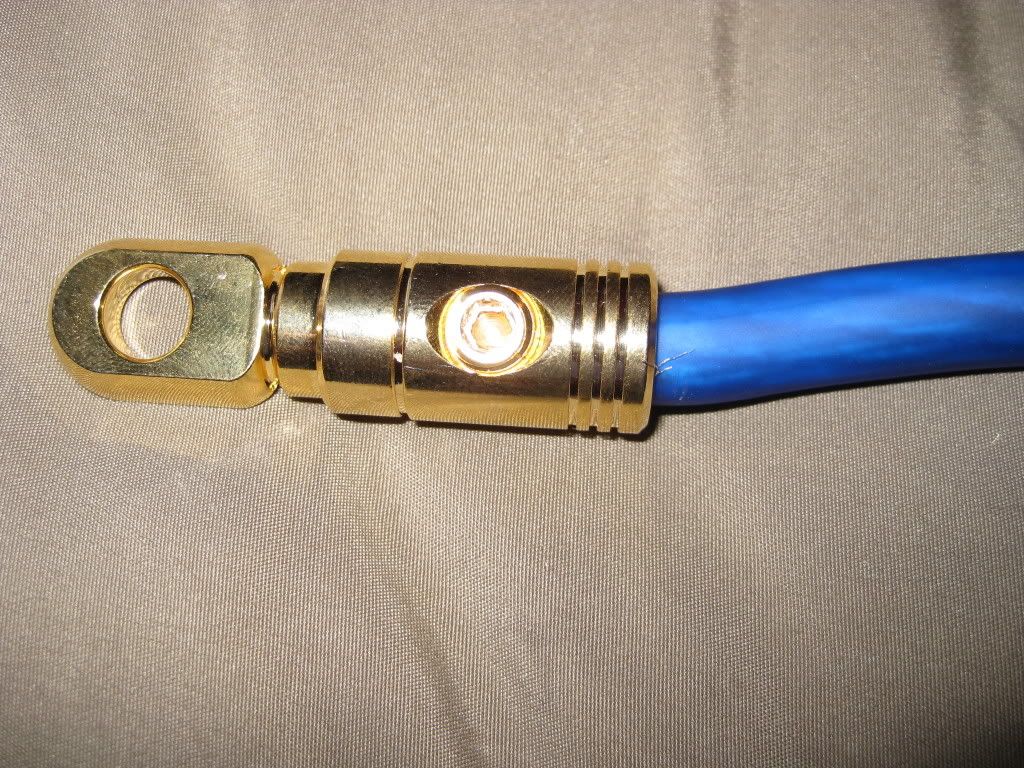 ring terminal on negative (i prefer black or silver to help me keep track)::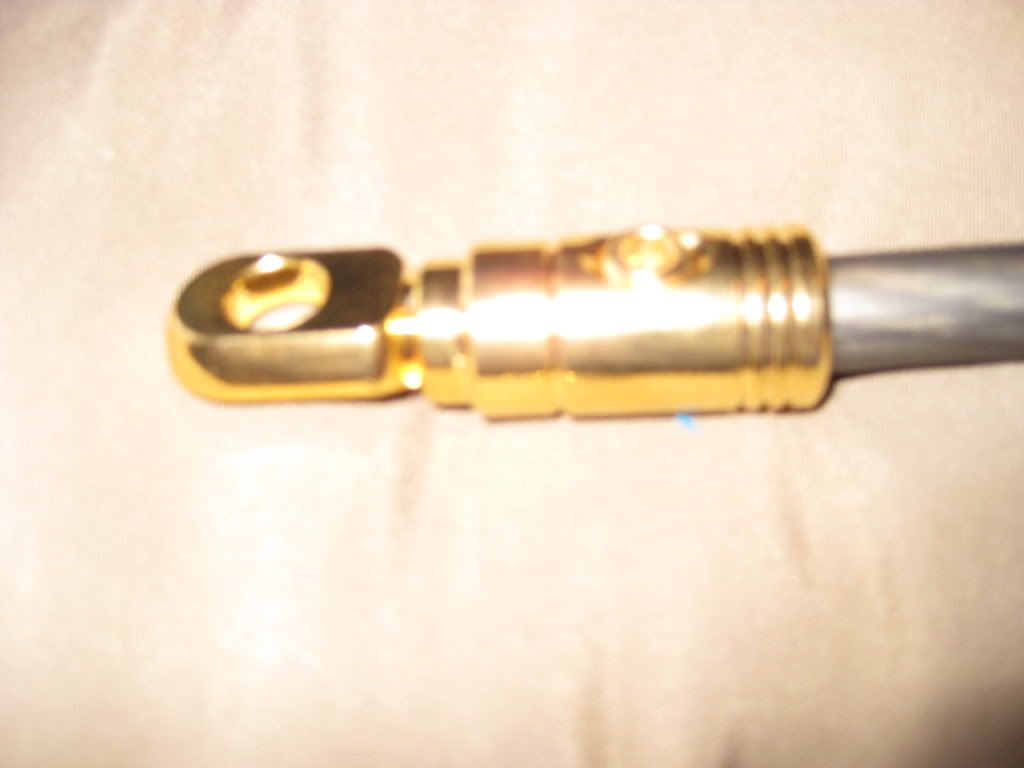 this next pictures shows my inline fuse holder on the power wire between 12-18":
Picture of power wire connected to battery via ring terminal and the ground wire connected to the chassis on a bolt right near the positive post on the battery: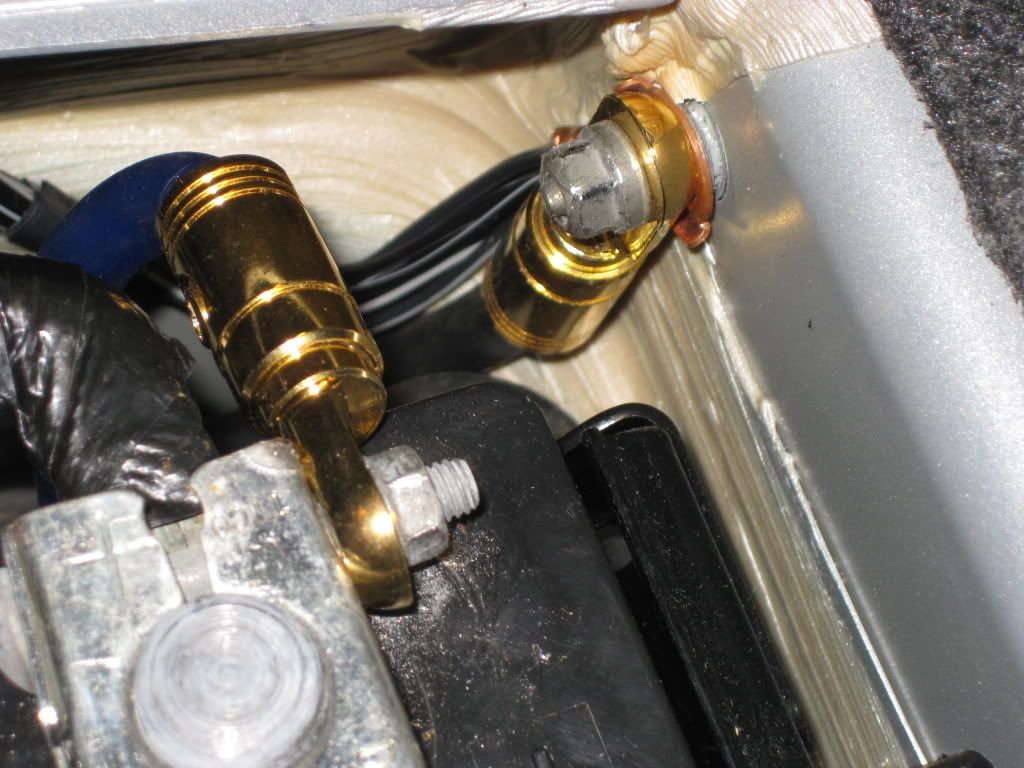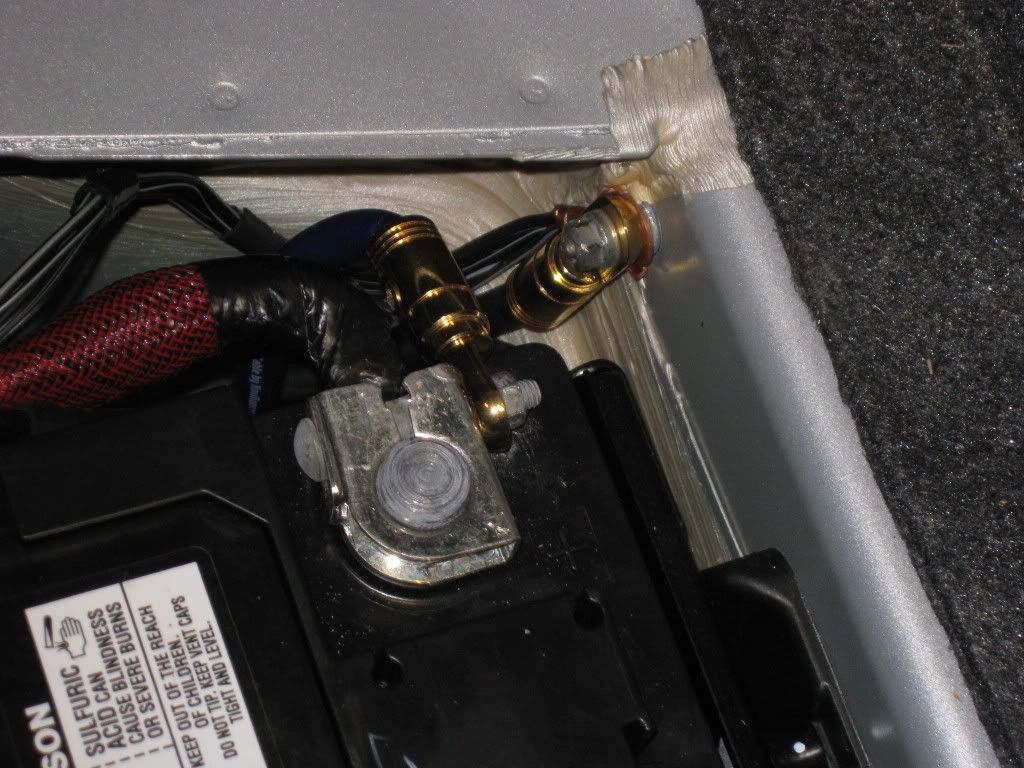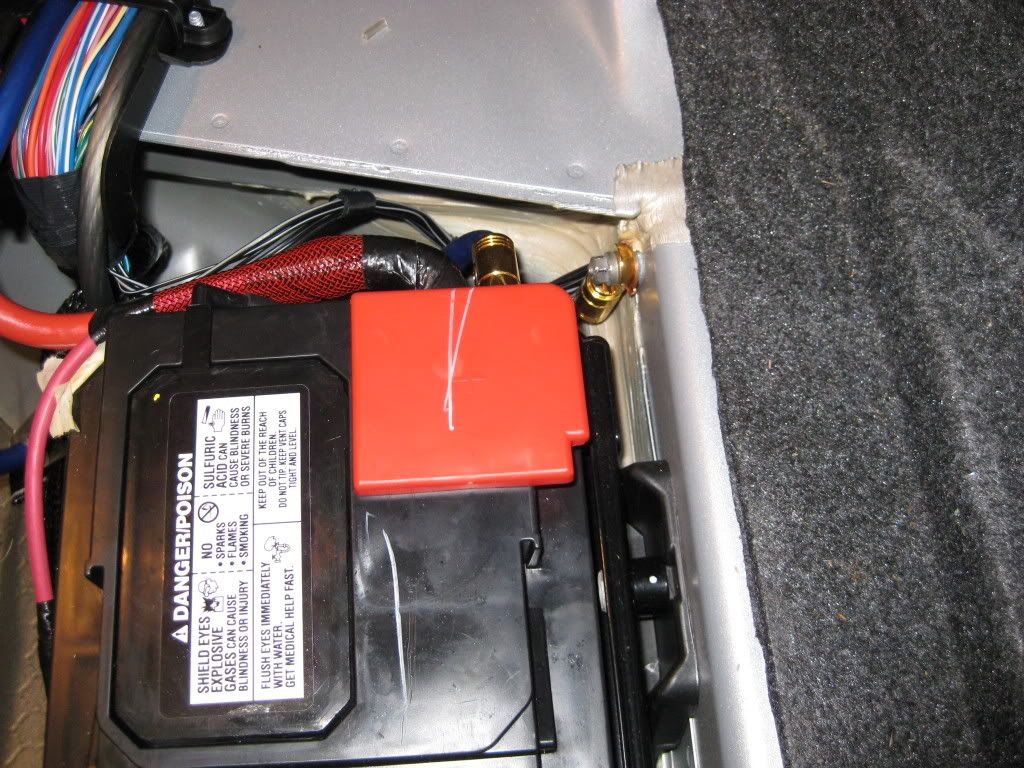 To determine the fuse size I add up all the fuses on the amps for instance I have 3 20amp fuses on the amp, I would put a 60 amp fuse in the inline fuse holder on the power wire. For the ground wire usually you want to make this wire as short of distance as possible between battery or chassis and amp so interference (alternator wines when you hit accelerator etc.) isnt brought into the cars speakers through the amp.
Installing the remote wire there is three options tapping into the fuse box for an ignition wire (turns power on when car is on, off when car is off). or you can tap a solid pink wire in a wiring harness found near the battery heading towards the front of the car (shown here):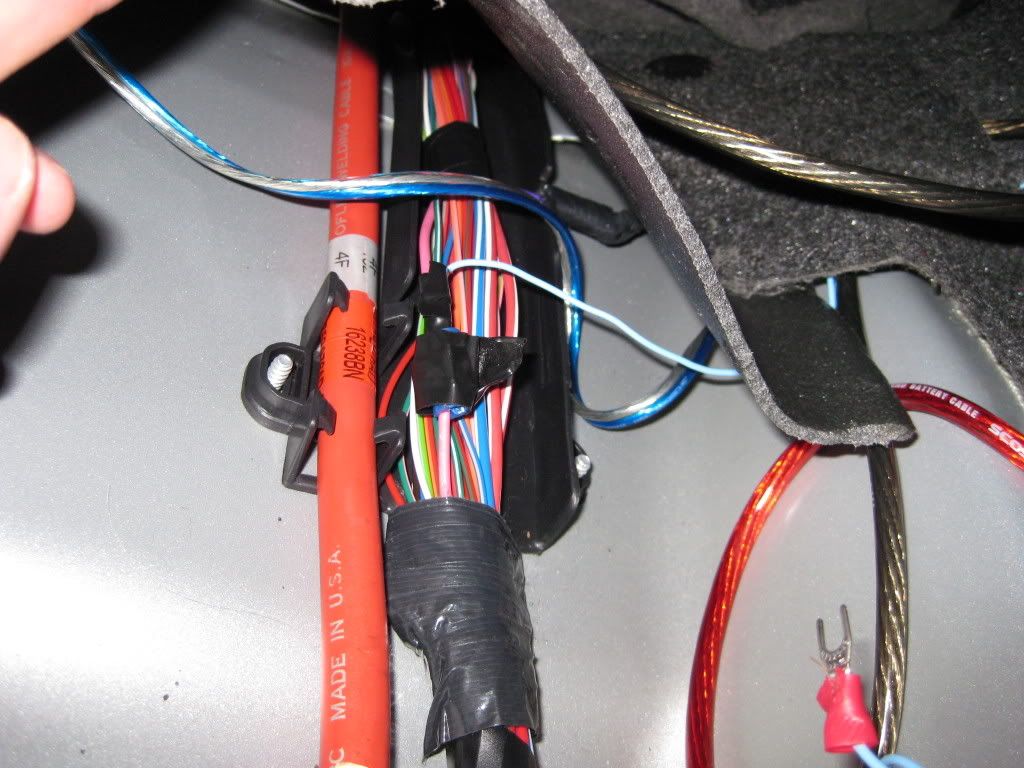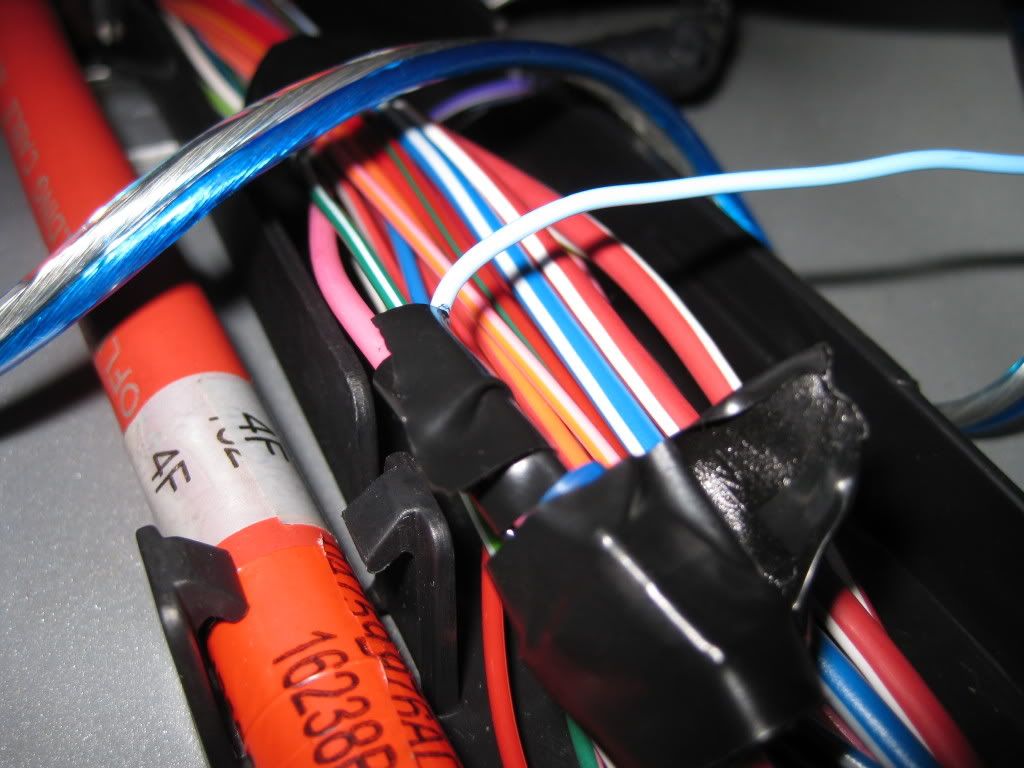 Again you can use a single wire tap like i listed above for the Loc method. To make sure this wire is the right one take a car test light put into this wire and the other end of test light to a ground chassis and or battery. If light is off when car is off and on when car is on you found the right wire to use as a remote. (I hope to have pictures soon). The third option is only for those with aftermarket Headunits. When installing the aftermarket headunit you will notice in the wiring harness there is going to be a remote wire connect to this wire and run to the back of the car for the amp. Too much work for me though and one extra wire that has to go to the back of the car, so ipersonally would stil use methods 1 or 2 for the remote wire.
once my wiring was donw i was able to use the plastic wire management to keep thing organized: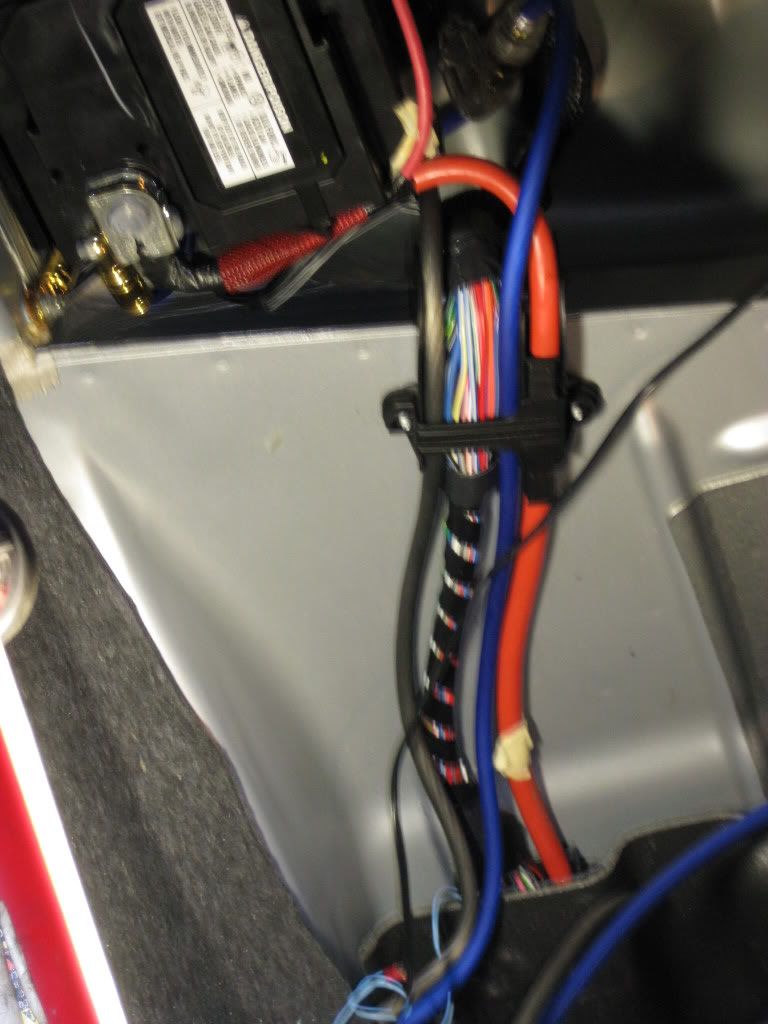 Replacing Speakers
Regardless of what sound group you have in your 300 you will have 6-8 speakers maybe an amp maybe not. These speakers include (2 or 3) 3.5" speakers in the dash (2) 6.5" or 6x9's in the front doors and (2) 6x9's in the rear. In regards to the brand and type coaxials or full range component style that is up to you. For this sake I will talk about the most common speakers used which are coaxials. Components can be done but honeslty only an experienced person with car audio knowledge should deal with them because of proper imaging the multiple speakers, understanding the crossovers and really the need for their own aftermarket amp. Anyway back to coaxials no matter what size coaxial they tend to share the same characteristc and come in many different configurations. You can get 2 way coaxials which usually mean you have two speakers in one. Usually two way includes the midbass speaker and a tweeter. Three ways tend to have a midbass and maybe two tweeters mounted above the midbass. Now the main reason to replace these stock speakers is because they tend to have inferior materials. Even the better oem soungroups like the boston acoustics have paper cones, usually with speakers with better materials (and they range) you will get more performance such as more midbass or more crisp highs etc. Now this is a slight bit of opinion but if you cant afford or plan to replace the speakers in pieces start with the front of the soundstage. Reason being is this is where the emphasis is when you close your eyes your car should be set up where it sounds like there is a concert stage in front of you. In a perfect world you would have perfectly imaged tweeters with sound waves coming directly into your ears. Anyway if you want to tackle the door speakers or dash speakers first that is up to you. But here is something to consider when replacing speakers:
1. If your replacing your door speakers you really dont need anything crazy like 3-way coaxials. A simple 2-way or full range speaker is fine and will save you money. Because the door speakers are usually crossosed over at the amp to only receive the lower frequencies you would not be utilizing those tweeters on those 3-way coaxials they are doing probably next to nothing your midbass is doing all of the work so save the money on use it on something else.
2. same scenario goes for the dash speakers. using 2,3 way 3.5" speakers is wastefull per say. With the dash speakers they are crossed over at the amp to only receive high frequencies to keep the sound stage high and in front of you. so really in this scenario your only utilizing the tweeter the midwoofers are doing next to nothing. A lot of people even opt to put a 1"-2" tweeter in the dash because really that is all that is needed.
3. Replacing the rear 6x9's is probably the least important and noticeable of the entire sound stage. In a real soundstage sound behind you is always very minimal and for movies its usually for the special effects to completely engulf you. In many Sound Quality competitions hardcore audio gurus often times dont even have rear speakers also known as rear fill, since the entire emphasis is on the front speakers to keep the stage in front of you. Those who do retain there rear speakers might turn there fade slightly toward the front so the ear isnt confused as to if the stage is in front or behind you. I dont know the specifics on the cut off frequencies for the rear 6x9's but they pretty much receive a fuller range of frequencies the highs and the lows, so its up to you if you deem it necessary to get 3-way coaxials or simply go with a 2-way set. I went with 3-ways because the two sets i was comparing where the same price. If one was priced much more than the other i probably would of went with the cheaper set. Honestly a 2-way set would be just fine because your emphasis is on the front of the car, what are you trying to prove in the rear deck??? Nothing worse to me when someone shows me there car and all i can hear is the rear speakers on and ZERO front speakers..I literally start playing with their faders etc. to fix it because its annoying to me. One thing i will say though is since you have your rear deck ripped apart and your replacing these rear 6x9's do yourself a favor unbolt and unplug 3rd brake light, put some felt strips (which can be found at the local hardware) on the 3rd brake light where it meets/touches the glass kind of a rectangular perimeter, you will thank me later as this is one of the most annoying rattles our 300's have, with oem 6x9s and aftermarket.
4. Choosing a speaker is completely up to you, people can give reccomendations all day long, all speakers will sound slightly different in different cars soo many variables go into play in audio systems. Your best bet is hit a few of the local audio shops your best buy, mom and pa audio shop etc. Listen to them and compare what sound you like best turn the volume up listen to the definition, listen to the midbass pick whats right for you. We all try to achieve different things in an audio system what i view as awesome might be considered horrid to your ears.
Install at your own risk, I take ZERO responsibilty if you burn up your amp, blow a speaker or your head unit. If you are having a hard time understanding some of this you may want to opt for a proffessional car audio specialist to install for you.
I am not comfortable moddiing my engine and dont trust myself but feel pretty confident and get enjoyment out of car audio installs. I do not consider myself an expert but one to share my knowledge on what things I do know.
This is also a great time to really acclimate yourself with fellow lx'ers in your area true enthusiast tend to help one another pull off certain mods, you may be a superstar when it comes to engines and your lx friend might be a pro installer in car audio, its great to know people and share a hobby let me tell you! Isn't sharing mods, ideas, insights, and installing most of the fun anyway and what the hobby is truley all about???
specifics to ALL vehicles make and model thanks to (ny srt8):